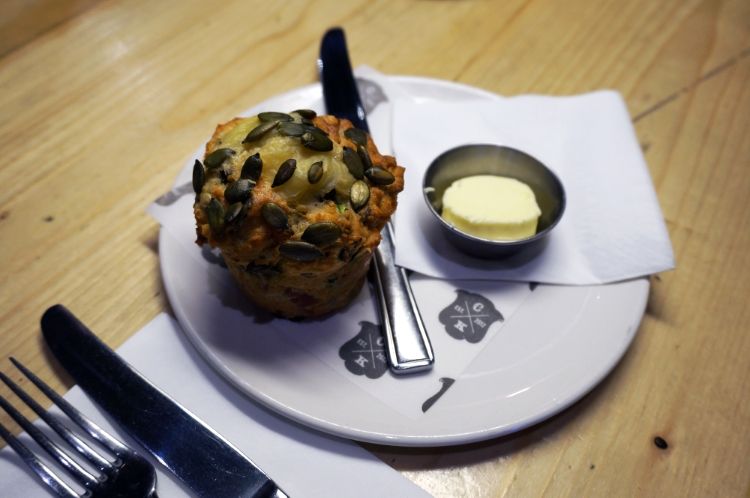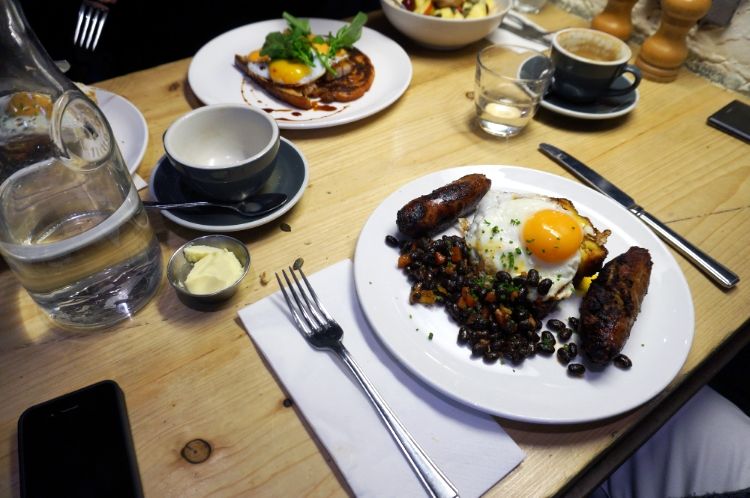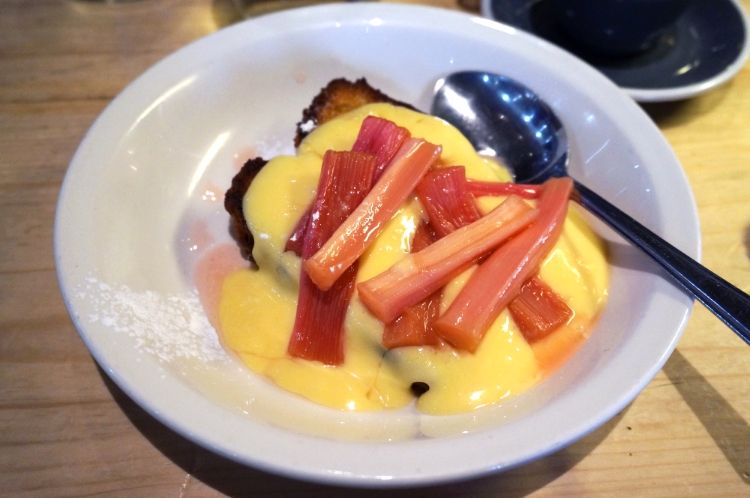 C

aravan
is the kind of place you read about and think, "Oh God, another trendy, overpriced brunch joint". As if London needs more of those. Then you stumble across menu items such as the "jalapeño corn bread, fried eggs, black beans, guindilla pepper" and you waver. God, that cornbread has a lot of great reviews. Maybe it's worth a try after all. Upon arrival, you'll find a plethora of wannabe customers milling around outside, at the entrance and in the university building next door (anticipating
the
call). The door staff are a tad frantic, but who can blame them? Questions are being fired at them left, right and center, and they shoot back responses whilst ushering people to the side or out the door ("there's just not enough room here for customers on the waiting list"). You give someone your name and number and head outside, back to King's Cross station for a walk about or whatever suits you, as you'll have about a half hour to 45 minute wait for a free table. It never seems to wind down, either - we finished brunch at 2pm and the place was busier than ever.
The food. It's good. It's very good. Let me talk you through some of the dishes pictured above. The muffin was savoury (my first ever savoury muffin, in fact). Parma ham with mushroom, courgette and pumpkin seeds. Moist, fresh, but I didn''t really taste much of the mushroom. Or the courgette, for that matter. It wasn't hugely to my liking. I'm definitely more of a sweet muffin lover.
There's the aforementioned jalapeño corn bread, which Jarv and I shared and shovelled into our mouths in the space of five minutes. That corn bread is some tasty stuff, as are the beans. Oh, we ordered some boar sausages too as an extra. They were a tad dry, but incredibly flavourful.
After digging into the corn bread dish, we decided to save the coconut bread I'd ordered for 'dessert' and order another savoury to share: baked eggs, tomato pepper ragout, Greek yoghurt, toast with chorizo sausage. This was good, too - by this point I was in a bit of a food haze and kind of limply making my way through the dish. I enjoyed it but was too full of savoury food to truly appreciate what I was eating at that point!
So, let's talk about the coconut bread. Man do I love coconut anything. The bread was delectable but the lemon curd cream cheese was a tad overpowering; almost sickly sweet. The rhubarb was the perfect tangy addition to cut through the sweetness and balance out the dish. Overall, the lemon curd was really quite saccharine, but the dish was pleasing nonetheless.
We left full and satisfied. In summation: go to Caravan. Order the corn bread. Enjoy.