A
delicious, fairly fuss-free dinner option that is insanely low-carb, low-fat yet high in flavour is this gorgeous stuffed pepper recipe. It doesn't matter which colour peppers you buy. I opted for a mixed pack, just for some variety in flavour.
You will need:
3-4 cloves of garlic
A medium sized onion
2 - 4 peppers (for 1 - 2 people)
Seasonings - salt, pepper, garlic powder, ginger powder, cumin, a teeny bit of vegetable flavoured stock/OXO cube
Turkey breast (substitute any meat you like! Turkey is a great choice as it's very low in fat)
3 - 4 carrots, cut into tiny chunks or grated
Grated parmesan
So, let's begin! Chop up a medium sized onion and a couple of cloves of garlic.
Begin to fry the garlic and onion on low heat for a minute or two, then throw in your (finely chopped) pieces of turkey and grated carrots. Season with salt, garlic powder and a dash of ginger powder. When the turkey starts to look like it's pretty much cooked, add in your vegetable stock and a little water, mixing it all in as you go. Let it simmer.
As the filling cooks away, cut the top off each pepper. I try to preserve as much pepper as possible, so try to slice inwards (if that makes any sense), in a circle, so that the top comes right off. Make sure all the seeds are shaken/scooped out.
As soon as your turkey is cooked, begin transferring the filling (don't forget the stock!) into each pepper, stuffing as much in as you can (raw peppers have a strong constitution; they can handle it).
Wrap each pepper in foil and stick in the oven for 25 minutes at 200 degrees Celcius.
After 25 mins, add your grated parmesan over each pepper and place back in the oven for a further 5-10 minutes.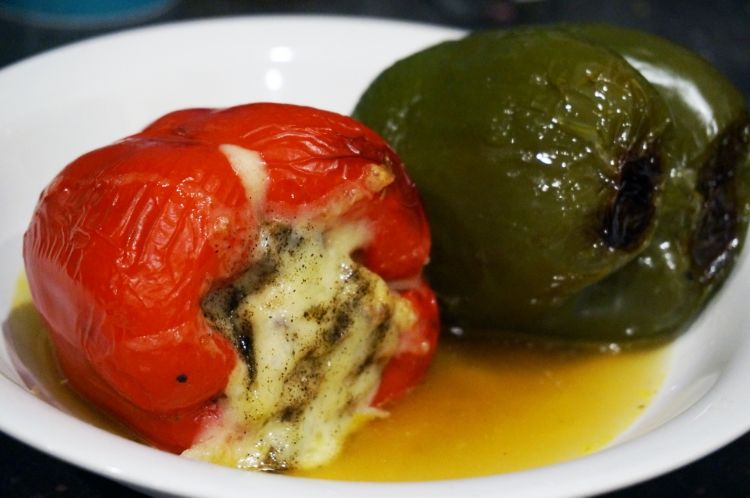 Crack some black pepper over those bad boys and gobble them up!
Next time, I may add some chopped tomatoes to the filling, and a teeny bit of couscous. Have you made stuffed peppers before? If so, what did you use as your filling?