O
n Friday, Jarv and I merrily headed off to Kensington to enjoy a weekend at the delightful
Cranley Hotel
. Situated in Bina Gardens, just around the corner from Old Brompton Road and within easy walking distance to Kensington High Street, South Kensington and the surrounding area, it was the perfect location for us to enjoy West London, a side we don't often end up spending time in. Isn't that a bit of a shame? East Londoners tend to stick to East London, and West Londoners vice versa, or so it seems. We are creatures of convenience.
From drinks at
Evans and Peel Detective Agency
to dinner at
Maxela
, coffee at
La Bottega
to a great morning workout at the
South Ken Fitness First
, strolling down King's Road to lunch at
Yashin
(my favourite London sushi restaurant - more on that later), it was a sunny, full, pampering weekend; the perfect mini getaway. Unfortunately, towards the afternoon on Sunday, I started to feel pretty crappy and subsequently spent the rest of the day on the sofa at home with stomach pain and a fever. No fun. Still, it hasn't dampened how I feel about the weekend - it was a great one!
Cranley Hotel is a gorgeous little boutique hotel, very typically British. Walking in feels like entering somebody's home; a blue living room with enormous, plump leather and suede armchairs and a vintage Roberts radio in the corner by the fireplace, softly playing classic pop hits from the 70's and 80's. It's the place where guests are invited to sit and enjoy canapes and a glass of bubbly every evening, and where glasses of water and orange juice plus either cake or fruit await you after an afternoon out and about. The keys to your room are heavy, old-fashioned, bronze; the concierge holds them for you when you leave for the day.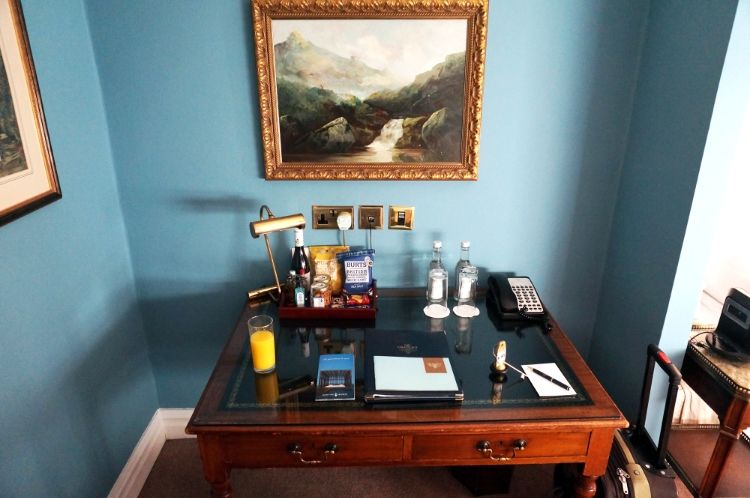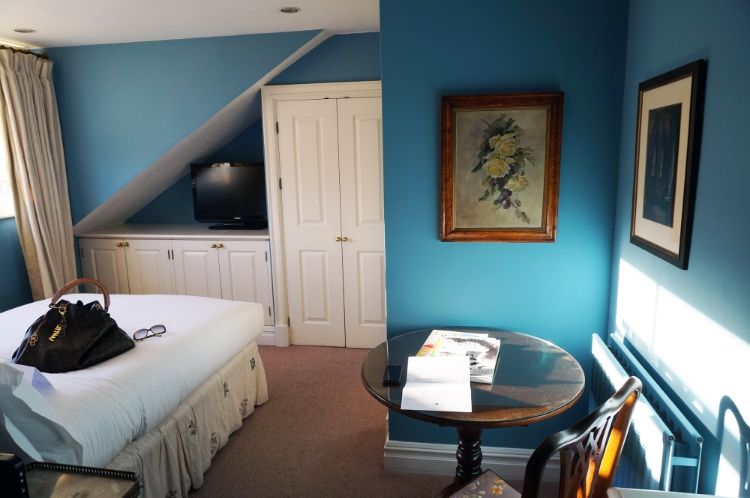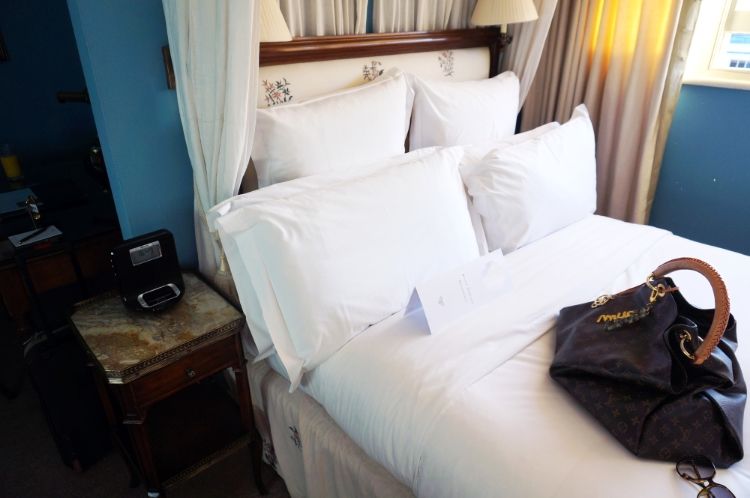 Our room was a Superior Double - a quaint room, painted in a stunning shade of blue, with a marbled bathroom attached. The only downsides, I would say, are that a) the furniture is slightly ancient (one of the chairs was in desperate need of new upholstery, and the table was a little wobbly) and b) the room is almost unbearably warm. The window only cracks open about four inches, so cooling down is a little difficult when the sun is shining directly in! Still, to finally have what felt like summer for a few days was fine by me. Breakfast is basic, just four slices of toast and tea or coffee plus juice (additional options available at a supplementary price), but this suited us just fine as our days were pretty much centered around exploring fantastic eateries in the area anyway.
The staff were all professional, smiley and helpful, the room was ideal for a short stay, and the location was superb. Would I stay at Cranley Hotel again? Absolutely!