B
reakfast is important to me. I know a fair amount of people who skip it and just have coffee, or who wait a full hour or two after getting up to have it. I am not one of those people. The first thing on my mind when I open my eyes is
food
. I think I have a pretty speedy metabolism, and when I wake up in the morning on a regular day, my stomach feels
completely
empty. As a result, I'm not the type to mull around, leisurely cooking up a breakfast to eat half an hour later. I could do this if I had a couple of biscuits to snack on in the meanwhile, perhaps. Most of the time, though, I just want something, anything, fast.
Anyway, I digress. I wanted to share 3 different types of breakfast for 3 different types of morning. One for when you are in a rush and want something full of flavour and energy-laden. The second can be made in about 15 minutes and is great because once all the ingredients are mixed, all you have to do is stick them in the oven. The final breakfast is for leisurely weekends.
ONE:
I eat this about 2 or 3 mornings a week. My favourite aspect of it is being able to prepare everything the night before, and having nothing to do in the morning but eat. This is my ideal breakfast, and if it weren't carb-heavy, I would eat it every morning!
You've probably heard of overnight oats before (or 'oats in a jar'). The concept is devastatingly simple - pour oats into a bowl, add your choice of milk (I go for either Alpro's almond or coconut milk), chop up half a banana and add that along with your choice of other fruits. I usually go for green apple, as it adds a crisp crunchiness to each mouthful. I often add blueberries, too, and sometimes strawberries. Refrigerate overnight. By morning, the oats will have soaked up a large amount of the milk and be deliciously gooey and ready to eat.
TWO:
These banana muffins are delicious, and incredibly easy. I know baking is very different to cooking savoury foods in that you usually have to be extremely measured - everything has to be added in exact ml or you'll have inconsistent results. These, however, I literally just throw together until it becomes the right texture and pour the batter into mini cupcake moulds. They bake in about 12-15 minutes, and stay moist in the center.
I use: 1-2 bananas, almond or brown rice flour, a pinch of salt, a dash of cinnamon, a tiny drop of almond or coconut milk. Sometimes I add fresh (or frozen) blueberries.
Mix all ingredients together - the consistency you're looking for is a thick batter, almost dough-y. Start with mashing up the banana, then add the flour bit by bit, stopping before it gets too dry. You want them to be soft and chewy, so the least amount of flour you can use, the better!
The great thing about these for breakfast is that they too can be made the day before. Or, if you want them hot and fresh, simply prepare the batter the night before and stick them in the oven first thing in the morning.
THREE: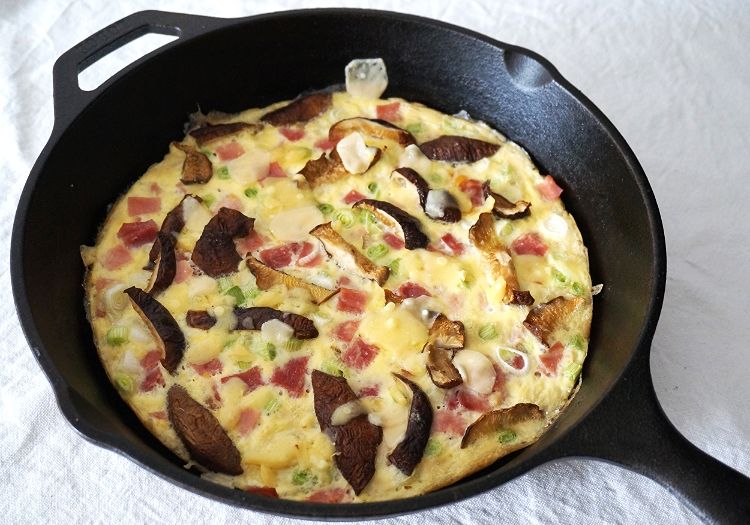 A weekend favourite, Jarv and I love eggs served up any style. This method in particular is fantastic. It becomes like a pizza - a round egg-y cake you can pick up and eat in slices. You'll need a cast iron pan to achieve this effect. Instead of doing it on a stove top, stick it in the oven for 20-25 minutes. The above omelette consisted of shiitake mushrooms, Iberico ham, a bit of Comte or Parmesan cheese and chopped spring onions.
Make a bit of salsa on the side (avocado, chopped plum tomatoes, garlic, onion or shallot and lime) and you've got yourself a delicious brunch.