B

efore we left for our 2 week trip, Jarv and I decided to have lunch at

Flesh & Buns

one Saturday after the gym. Flesh & Buns is the new Izakaya style Japanese restaurant opened by Bone Daddies. Find it in Covent Garden, just opposite Belgo, on Earlham Street.
We'd originally bumbled our way in one evening months ago, only to discover it was the soft opening and the place was rammed, and so promised ourselves to go back once it was officially open for business.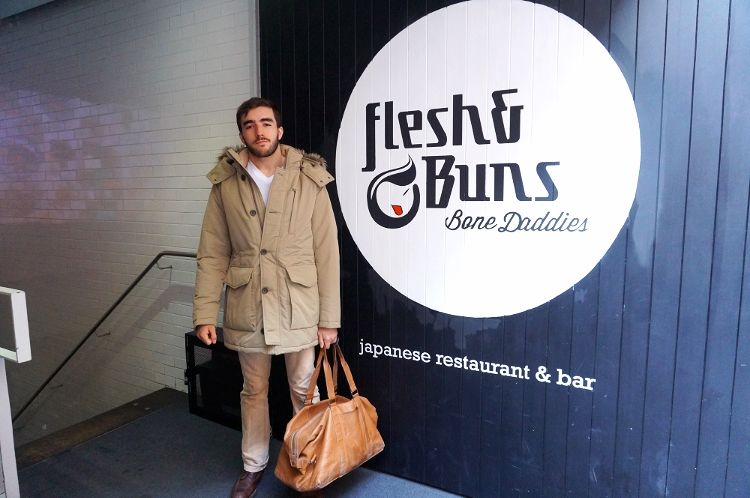 We started with grilled sweetcorn halves, smothered in a zesty lime spice butter. A gorgeous, sweet and sour (and messy!) dish.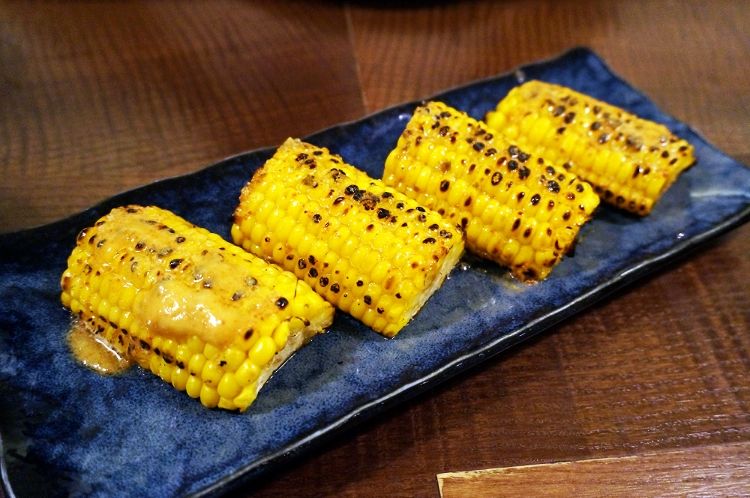 Next, soft shell crab. A firm favourite of Jarv's and mine, it's difficult to see this on a menu and not order it. We both agreed it was executed beautifully here, and gobbled it up promptly.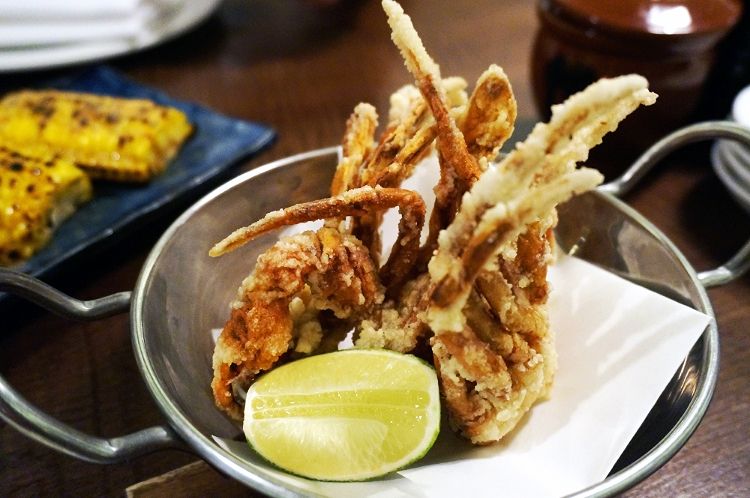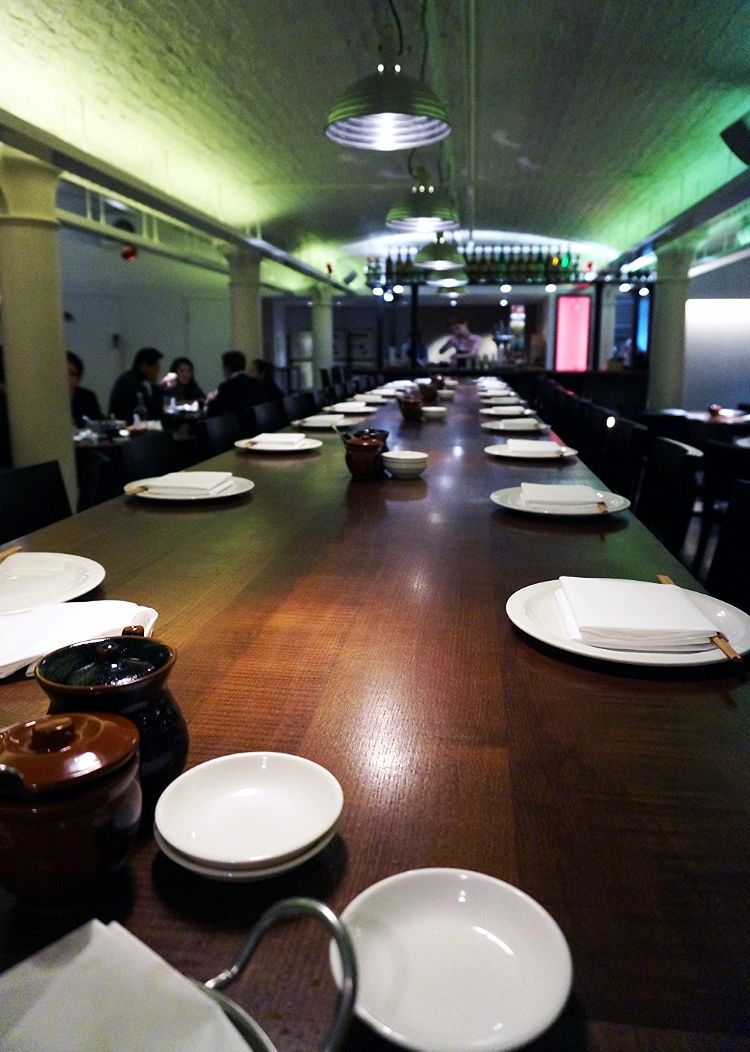 For the main course, you choose how many Bone Daddies home made buns you want (go for at least 2 per person) and then order your fillings. When everything is brought to the table (in a very timely manner, might I add!), you 'build' your buns yourself, stuffing them with as much or as little meat as you want. It's a great sharing and bonding experience, and fun for a date or an evening out with friends.
I'd checked out

the menu

online before going (something I love to do beforehand to really get excited about a venue) and seen the crispy piglet belly. Well, that settled it, then. We didn't even have to consider whether or not we were ordering it, and there were no regrets when it arrived. It is simply moreish; the crispy skin and the tender meat paired with a tangy mustard miso and picked apple, stuffed into a fresh, pillow-y bun - wow. Go. Go and order it, eat it (try not to moan too loudly in pleasure) and tell me you agree!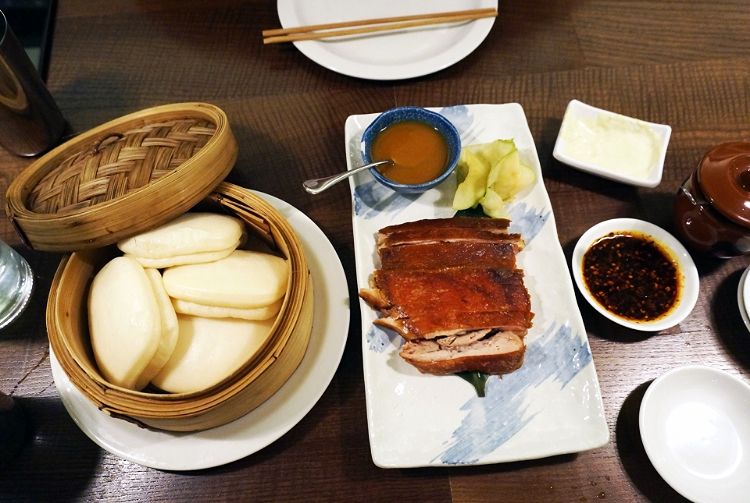 We also ordered the 1/2 young chicken with a yuzu kosho rub and shimeji mushroom pickle. This was also juicy and well cooked, but I didn't feel as crazy about it. For some reason, I felt the citrus-y taste didn't really go with the rest of the dish. I didn't dislike it, though.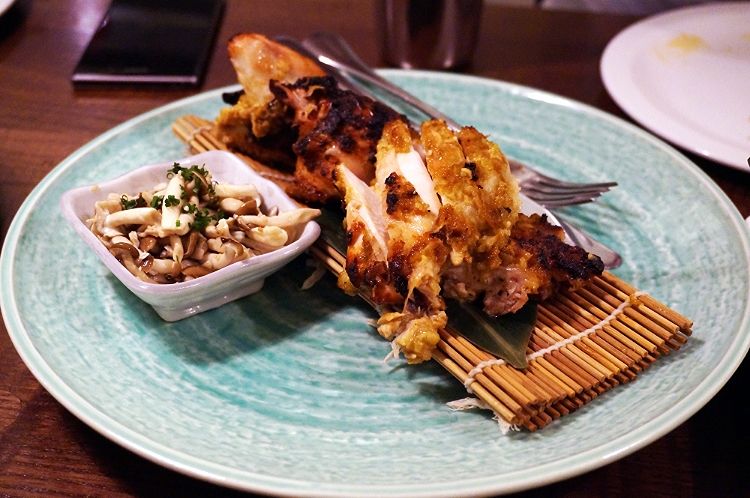 We went back with some friends on Friday night and tried some new dishes - the fried squid (tasty, but a bit too much batter), tempura pumpkin with yuzu mayo (yum! I love the combination of salty and sweet, though I did think it could have done with just a tad less salt/oil) and chicken yakitori (delicious - moist, smothered in sticky sauce and disappeared in about twenty seconds) starters. We had pork belly again, as well as crispy duck leg (it was shredded at the table and tasted gooo-ood).
Once again, we decided against dessert, having stuffed our bellies too full. Which is simply an excuse to go back next time and try some, because doesn't s'mores with green tea and chocolate, kinako donuts with black sugar custard and chocolate and Japanese whiskey mousse cake all just sound incredible?