I
t's no secret that Jarv and I loooove dim Sundays. But not just dim sum - all Chinese cuisine, really.
The best time to eat a feast of Chinese delights? Right after the gym, of course! Occasionally, we'll work up a serious hunger and rush off to Chinatown to hunt down all manner of dishes which will erase the past hour of hard work.
On this particular weekend, we decided to go with a Taiwanese theme -
Leong's Legend Continues
. LLC is the younger brother of - wait for it - Leong's Legend, which is just around the corner, larger, and much busier. It's actually more a mish mash of Chinese food, not just Taiwanese. Their menu also includes Shanghainese dishes, Cantonese dishes, etc.
LLC is dark, tiny and even a little cramped. The waiters are, at best, nonchalant (at worst, completely unimpressed and uninterested - but they're okay, really). The food, however, is fantastic, and comes out plate after plate in quick succession.
We ordered about six dishes, including a dessert, which in typical Chinese style was the first to come out. Instead of leaving it until the end, we shrugged our shoulders and ate a backwards meal.
Mango pudding:
Braised pork belly rice (the pork - succulent and falling apart at the touch of your spoon. The sauce - rich and full of flavour):
Hot and sour soup:
Beijing pork and chive dumplings (a simple dish, but so moreish! I could eat a bowl of these every day):
Legend's xiao long bao (or siu long bao):
Pork belly gua bao - a soft, pillowy bun with a tasty chunk of pork belly.
Lastly, our absolute favourite. A hands-on, messy, incredibly delicious chilli crab, deep fried with garlic and chillies. The main reason we return again and again.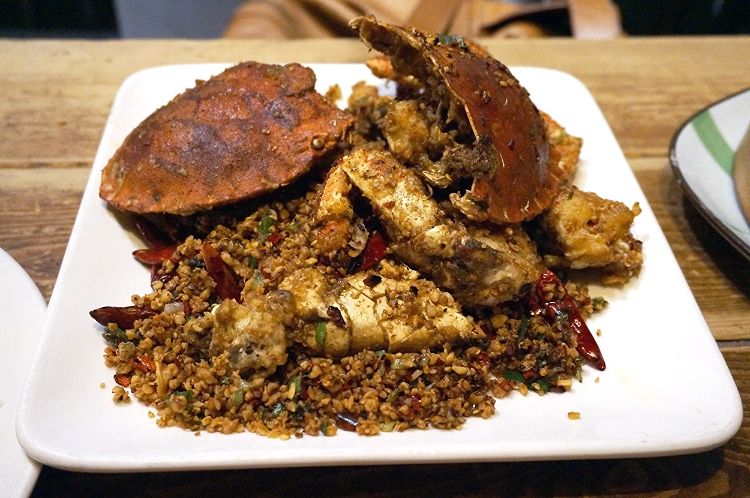 Finally, we sat back, held our (now double sized) bellies, and admired our handiwork.