I
stanbul. I didn't know what to expect, honestly, as I hadn't seen it featured much in anything before, nor do I know many Turkish people (two, from my university days). The first thing that hit me was the heat. It felt almost tropical, and I instantly had a feeling I was going to like it there.
We drove fifty minutes to Taksim Square, where our hotel was, and as soon as our shuttle made its way up the curving roads by the Bosphorus, the excitement really hit me and I couldn't stop from smiling.
Our suite had a Bosphorus view (just about!). Waking up every morning and flinging open the curtains to reveal blue skies and even bluer water was such a wonderful feeling.
As we'd arrived in the late afternoon, Day 1 was focused mostly on food (what else). We'd seen wet burgers, or islak hamburgers, featured on Anthony Bourdain's show and knew we had to give them a go. If you want to try one of these street food specialties, the most famous one is Kizilkayalar, in Taksim Square.
You know what? Not as weird as they look. They're extremely flavourful, having been dipped in a homemade tomato and garlic sauce before being steamed, with a medium rare beef (?) patty in the center. Pretty damn delicious, actually.
Next on the list was
kazandibi
. Literally just across the road from Kizilkayalar, you'll find this dessert in a famous cafe named
Hafiz Mustafa

.
It's a dessert prepared with ground rice, chicken breast and buffalo milk. (Yes, you read that correctly.)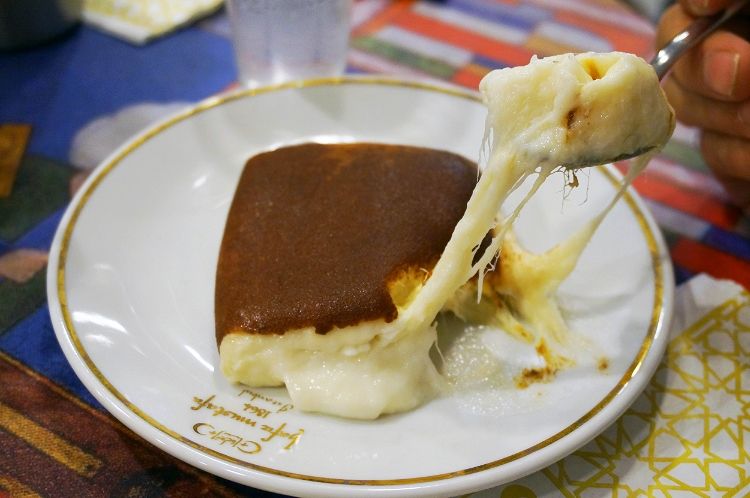 I loved it. I'd been eagerly anticipating trying this outrageously weird dessert. It wasn't outrageous or weird at all. It was sticky, chewy, milky, incredibly sweet. It tasted like a giant, milky toffee, with the texture of shredded chicken.
If you're looking for a special occasion dinner with a bit of history, try
Asitane
. You'll receive wonderful service from well-dressed gentlemen, and in the summer months the inside of the restaurant is abandoned in favour of migrating out into the lovely garden area to dine in the warmth and enjoy some unobtrusive live music.
The dishes are representative of food prepared and served in the royal palaces back in the Ottoman era. We tried such dishes as warm almond soup with pomegranate seeds, squid stuffed with prawns and an oven-baked melon stuffed with minced meat, currants, rice, almonds and herbs.
Day 2
. During our stay, each morning started the same way - stuffing our faces at the breakfast buffet or club lounge (you'll always find better options and a much wider variety at the main buffet), then getting changed for two or three hours by the pool.
After completing our morning ritual, we headed over to the Sultanahmet area (where all the main tourist attractions are located conveniently within walking distance of one another), had a light seafood lunch and readied ourselves for an afternoon of sightseeing.
Face one way, and you'll see the Blue Mosque standing in all its glory.
Turn around, and there stands the Ayasofya.
Featured in this post -
Food:
Kizilkayalar

(wet burgers)
Yeni Lokanta
(last photo. Food was excellent, truly. Our meal was dampened at the very end by a waiter somehow spilling bright red sauce from the next table on Jarv's trousers and not really being too apologetic about it. Other than that, everything else had been great.)
Local attractions: